University bosses and union officials are being urged to find a solution to a bitter row over pensions, as workers took to picket lines over the issue.
Campuses around the UK are facing disruption as members of the University and College Union (UCU) stage the first wave in a planned month of industrial action.
Universities Minister Sam Gyimah called on both parties to get back to the negotiating table, saying he was "deeply concerned" about the impact strikes would have on students.
Labour leader Jeremy Corbyn sent "solidarity and thanks" to university workers and urged employers to commit to negotiations.
The dispute centres on proposals put forward by Universities UK for changes to the Universities Superannuation Scheme (USS).
Universities UK (UUK) maintains that the pension scheme has a deficit of more than £6 billion that cannot be ignored, and that it has met union officials more than 35 times to discuss reforms.
The UCU has argued that the current proposals would leave a typical lecturer almost £10,000 a year worse off in retirement.
Tens of thousands of workers are thought to be involved in Thursday's action, which is taking place at 57 universities, including Oxford and Cambridge.
Students have been joining lecturers on picket lines, while new polling published by the UCU shows that the majority of undergraduates (61%) support strike action by university staff, with nearly a fifth (19%) opposed.
It has been reported that tens of thousands of students have signed petitions demanding compensation for classes lost due to the strikes.
In a video message, NUS president Shakira Martin told university workers "we are with you all the way" and urged employers to get back round the table.
The action has won the support of a number of university leaders, with the vice-chancellor of Newcastle University tweeting: "I absolutely support staff's decision to strike."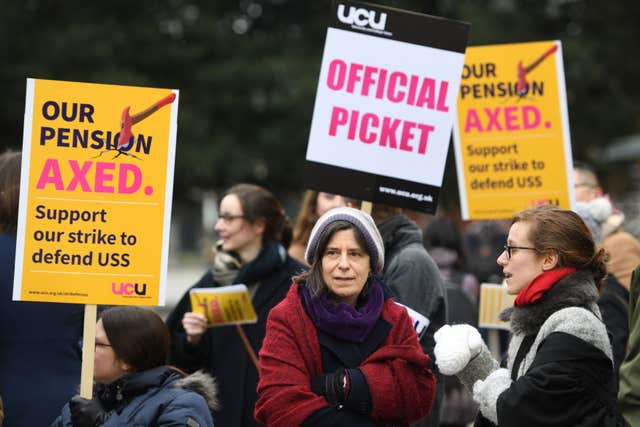 Mr Gyimah said he had been speaking to both UUK and UCU.
"I am deeply concerned about the impact this strike will have on students, who deserve to receive the education that they are paying for. For many, this is a vital time in their studies," he said.
He added: "I call on them to get back to the negotiating table, without pre-conditions, and to find a solution that avoids further disruption to students.
"Where any strike action takes place, we expect universities to keep a close eye on the impact on students, and to put in place measures to maintain the quality of education that they should receive."
In a video message, Mr Corbyn said: "On behalf of the Labour Party, I want to send solidarity and thanks for all the work you do in our universities and colleges. We are deeply concerned by the proposed changes to the USS that would leave our university staff up to £10,000 a year worse off in retirement.
"Downgrading the pension scheme will affect recruitment, retention, and ultimately our ability to offer world-class higher education.
"Everyone deserves the dignity and security in old age that comes from a decent pension."
He added: "It's been great to see strong support from students for striking staff, but for everyone's sake we need to find a solution which avoids further disruption.
"So I join staff and students in calling for the employers to commit now to meaningful negotiations, through Acas if necessary, to resolve this dispute."
In his tweet backing striking workers, Professor Chris Day said: "I absolutely support staff's decision to strike – I'm not sure what else they can do to express their concerns about the situation we now find ourselves in.
"This is a national dispute that cannot be resolved locally but I am meeting UUK today along with other vice-chancellors and will urge strongly that negotiations need to recommence."
Professor Stuart Croft, vice-chancellor of Warwick University, has said he believes "industrial unrest" could have been avoided and called for a return to negotiations.
"I am therefore calling for an early return to negotiations, with a more open and imaginative approach from both parties."
A number of universities told the Press Association that they were attempting to minimise disruption, but that figures on striking staff and students affected were not yet available.
UCU general secretary Sally Hunt said: "I have made it clear from the start of this dispute that this mess can only be resolved by negotiation.
"We have been calling for talks for weeks either directly or through Acas, so if UUK are willing to now meet without preconditions with a view to resolving this dispute this is good news.
"Students should never have been put in this position. I would like to thank the universities minister Sam Gyimah, Labour leader Jeremy Corbyn and student leaders for the pressure they have put on universities to start negotiating again. We wait to see what UUK has to say."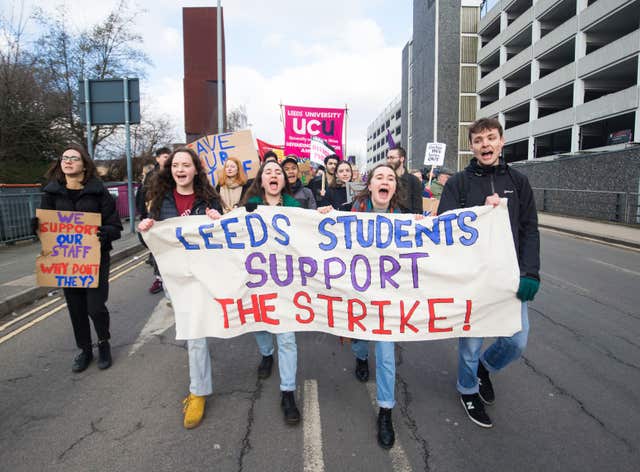 A UUK spokesman said: "Union leaders need to listen to the concerns of the Pensions Regulator and USS. Pensions risk is very real.
"Their dismissal of the funding challenges is hugely concerning, the very reason employers and the scheme must act responsibly to protect pensions and students.
"We remain at the negotiating table to engage with UCU on the long-term sustainability of the scheme and we continue to seek further talks. If a credible, affordable solution were to be put forward by the union, employers would want to consider it.
"This industrial action is targeted at students. It will be young people and the next generation of students who will also suffer if their education deteriorates because employers are forced to make cuts to pay more into pensions.
"Employers are committed to continuing to pay in 18% to staff pensions for the next five years, double the private sector average."
Strikes will take place at 57 institutions on Thursday and Friday, with more over the next month if there is no resolution, building up to a five-day walkout in the week beginning March 12, by which time 64 universities will be affected.
Hundreds of thousands of university workers are understood to be enrolled in the USS pension scheme, mainly those working at older institutions established before 1992.